Welcome to the family Durban Brewing Co! Durban Brewing Co has a stunning bar venue at On Point Waterfront. They recently started using our services at this venue, where our flow meters are installed, since just last month.
We are actively helping them monitor their draughts and reduce their losses to optimize their business operations.
Who are They?
Durban Brewing Co is a craft beer brewery that is renowned for its first-class quality beer. All their beer is handcrafted and created with great care and finesse.
The founders started this boutique-style brewery in 2014 with just a kitchen stove and home beer-making kit. They slowly progressed from there and are now a well-established craft brewery.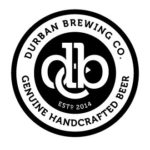 What do they Offer?
Their Hot Blonde is probably the most popular, their Amber Jack coming a close second. Customers can also enjoy their New Pier Pilsner, North Easter IPA, or Blush Apple Cider.
For those that are not huge beer or cider fans, they also offer a range of cocktails on tap! 
These include: their own Durban Brewing Co. crafted brandy and coke, cane and cream soda, gin and tonic, pink gin and tonic, blueberry gin and tonic, and rum and raspberry. They also have Bacardi mango and passionfruit, Smirnoff cosmopolitan, Pina colada, and mojito. 
How often do you find the South African classic brandy and coke on tap?! A must-experience in our opinion.
If their delicious beers and cocktails on tap aren't a good enough reason to visit this venue, the gorgeous decor and stunning views of the harbour should do it for you. It is ideally located right at the entryway of the harbour, so you can watch as ships come in and out.
Where do I find out More?
If you feel like staying at home as the COVID third wave hits South Africa, you can also order some of their beers, ciders, and spirits from their online shop to be delivered to your door! 
Click here to visit their website to find their online shop and more information. We also suggest you give their social media pages a follow to keep up to date on events and specials.